An ideal wayo make large 3D logos with either polystyrene or Styrofoam.
Polystyrene Letters – Large 3D Logos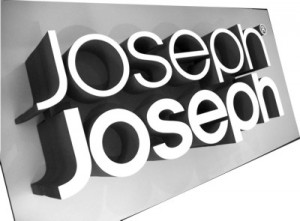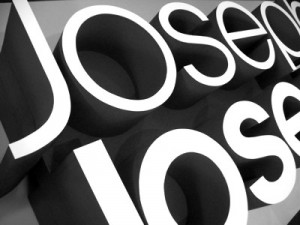 Large 3D logos can be made from polystyrene with a vinyl card face. Logos in 3D are an ideal method of advertising inside shops. Hanging from ceilings or fixed to walls.
An example of one of the logos supplied to a London Department store. The logo was 1700mm x 770mm x 400mm thick, matt vinyl faced with grey painted sides and back.
Digital Printed 3D Wall Statements
3D logos, Styrofoam painted to the customers RAL colours and then mounted onto 10mm thick clear acrylic for display in an office environment.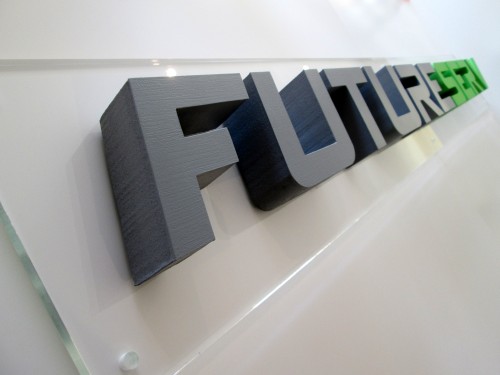 10mm thick clear acrylic sign with polished edges and standoff chrome fixings. Example shows 1400mm x 200mm sign, 25mm thick letters painted to pantone matched colours.
1000mm high, 50mm thick polystyrene logo with digitally printed image of a flower. Sides were painted black. part of a larger order of lettering made of white foam which had a chrome face and painted black sides.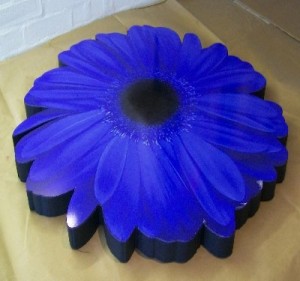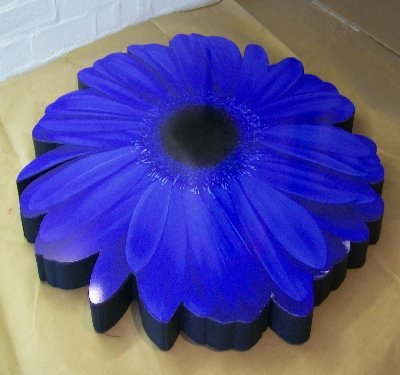 Large Painted Polystyrene Logo Resin Faced
A painted polystyrene logo. 1000mm high, 150mm thick. Artwork was sent to us as a vector eps file. The logo was cut from 50mm thick polystyrene and 100mm thick polystyrene. each layer was glued together and then a thin coating of resin was applied, it was then sanded and painted in the company corporate colours matched to their pantone numbers. we used Dulux vinyl matt emulsion to paint the logo with. The resin was applied in a 1mm thick layer to fill in the uneven finish of the polystyrene so when it was sanded a smoother finish would result. It was a good alternative way to get a smooth finish on the face of large letters and logos instead of card facing or foamex facing. A slight texture was still visible mostly the result of the paint that was applied by using a roller. the finish on the face looked similar to a painted plaster. We also coated the sides in resin,, though it was not necessary because the cutting process of the polystyrene provided a smooth finish.
Wall Display Logos made from painted polystyrene.