3D Polystyrene letters and logos are the perfect solution for visual advertising and promotions
Polystyrene letters and logos are custom made to order used for Exhibition Header Panels, Shop Displays, Events and Office Wall Logos and Wall Statements.
Poly letters are available in various finishes, natural white, painted, vinyl card faced, digital printed foamPVC faced. Lettering may be cut from 50mm high up to 2400mm high in thicknesses of 25mm up to 300mm thickness.
Letters may be wall mounted or freestanding, used for interior displays or for outside use if painted with masonry paint.
Natural white finish polystyrene letters are cut from sheets of MDFRA grade expanded polystyrene, the letters can be painted with vinyl matt emulsion paint. Customers can also use the lettering as a base to glue various other materials to them such as glitter or coloured paper, gems or precious stones or use the letters to cover in florists flowers or mosaic.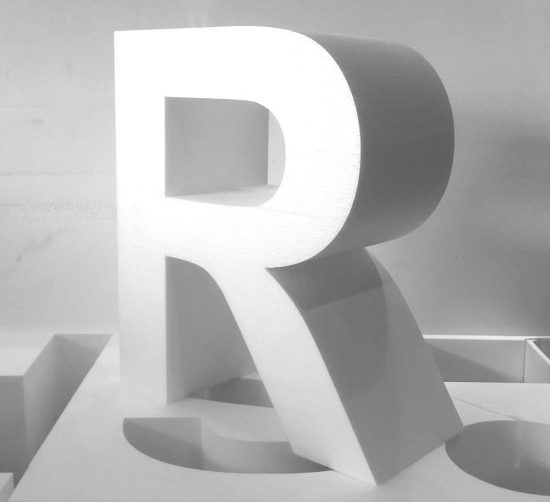 Please feel free to contact us by email: sales@arro-signs.co.uk or phone us on 01202 546540.
Painted Polystyrene letters are first cut from natural white expanded polystyrene and then given two layers of high quality vinyl matt emulsion paint. We use the Dulux Brand of paints because of their high quality and customer service and their ability to match colours to BS and RAL ranges and also to Pantone colours.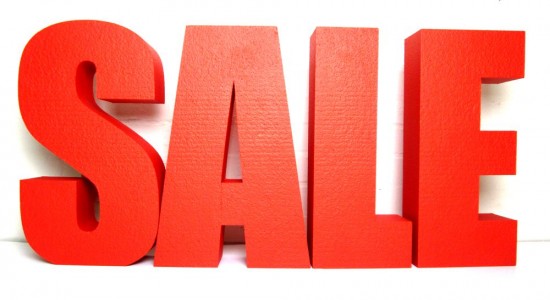 Polystyrene Letters with a painted face and natural sides give the letters definition. ideal for shop window displays.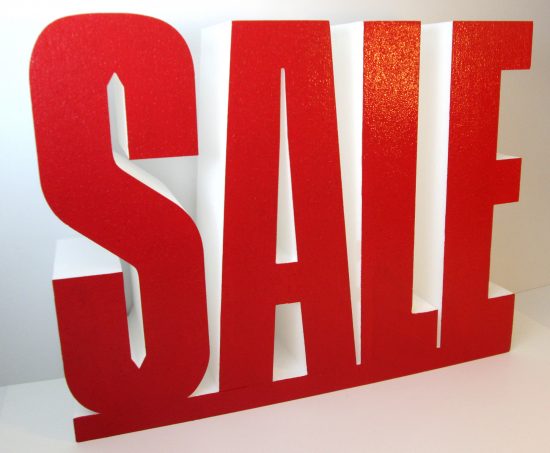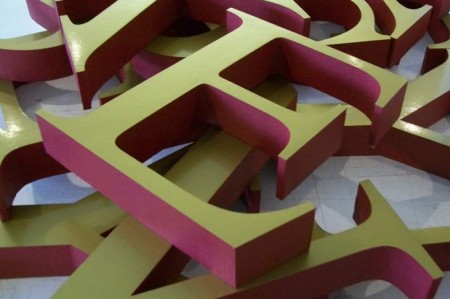 Card Faced polystyrene letters are cut and then a vinyl card is applied to the face of the letters to give a smooth finish. Available in gloss or matt. The letters are available with painted sides in a matt finish using vinyl matt emulsion.
Polystyrene Letters for Outside Use. Polystyrene letters for outside use can be made to order for short term use for outdoor events or permanent exterior use for shop signs. If the letters are required for short term use a we apply two layers of masonry paint. When the letters are required for permanent use outside, we use a higher density Styrofoam, painted to a matt finish. Letters may be faced in gloss or Matt finish expanded PVC.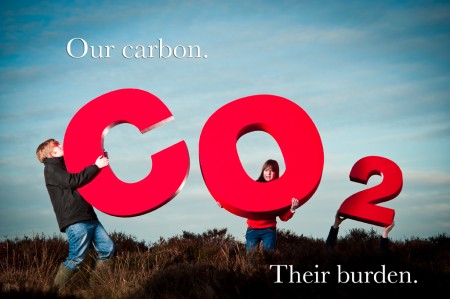 Digital printed Logos. Logos can be digitally printed and mounted onto card or plastic and then fixed onto polystyrene. This process would be ideal for any exhibition or window display.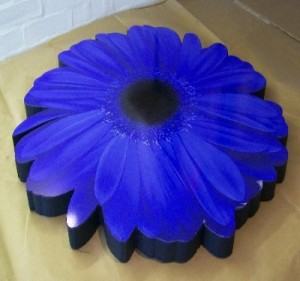 Large Polystyrene Letters. Large polystyrene letters are used for window displays, they have also been used in Company Offices as visual advertising. Other uses for large lettering includes commercial photo shoots and visual advertising campaigns in shop displays.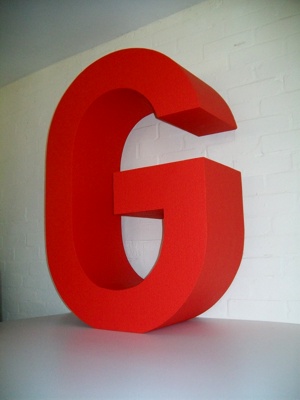 Large 3D Logos. Large 3D polystyrene logos are used for shop displays in Department Stores like Selfridges in London and Harrods.
Example of a Logo for a designer Kitchenware Business, 1700mm x 700mm x 400mm thick, painted grey with white Matt face. Designed for hanging from a ceiling in a London Department Store.

3D Numbers. Painted polystyrene or styrofoam numbers for use in shop displays, may be fixed to walls or for use as freestanding numerals on shelving units within shop display systems. An effective way of visual communication using volumetric letters.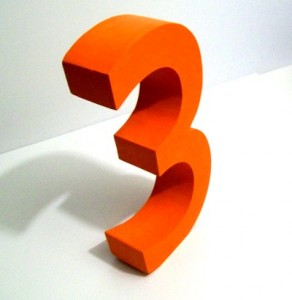 The example on the right shows a number three, 250mm high, 50mm thick, painted orange matt, designed for free standing on shelving units within retail department stores.
Polystyrene logos For Office wall Displays. Painted polystyrene logos are used for exhibition displays and are also used for shop window displays and in-store displays and office wall displays.


Arro Signs. 7A Bemister Road, Winton, Bournemouth,
Dorset. BH9 1LF. Tel: 01202 546540. Email: sales@arro-signs.co.uk
Please fee free to contact us for advice and a price.