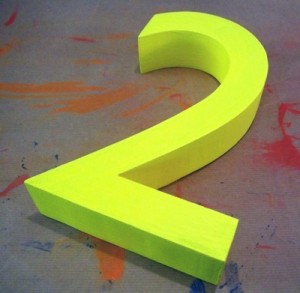 Painted Styrofoam numbers. 1, 2, 3, for a shop display.
250mm high, 50mm thick. Free standing. Number 1 was painted red, number 2 was painted yellow and number 3 was painted orange. Sample letters for a larger order for a well known retail business in the UK.
The cell structure of Styrofoam or Selectafoam is much tighter than polystyrene. When painted it looks like…
it looks like something other than a displayfoam, it could be wood or plastic or some other material.