Gold Glitter Letters for shop displays, exhibitions and night clubs.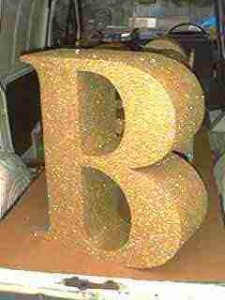 Gold glitter letters are made to order in a wide range of fonts, as well as logos. They can be made from your own artwork sent to us on a PDF file.
The lettering is made from expanded polystyrene and coated in two layers of gold halo glitter.
The glitter size is 040 polyester or PVC glitter and is made in the UK.
Glitter letters can also be used for shop signs if extra layers of clear resin are applied to the glitter.
Gold glitter letters are used for weddings as decorations at the wedding receptions.