Styrofoam letters are used at wedding receptions as visual displays. The letters can be made to order and painted to various colours or they can be gold glitter covered or covered in silver glitter.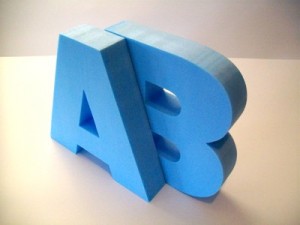 Styrofoam letters can be supplied unpainted so that the customer may paint them to their own desires. The wedding letters often have the initials of the bride and groom which can be placed at the top table at the wedding reception.
Large 3D wedding letters can also be made up to 1000mm high in various thicknesses. A popular thickness used for weddings is 50mm thick with a gold or glitter covering all over. The letters would be placed against a wall with lights directed onto them to increase the glitter effect.
To make an enquire please feel free to contact us for advice and a price.
Large 3D wedding letters. 1500mm high, 200mm thick, Impact font.